What if your family fasted denial?
What if your friends fasted comparison?
What if your generation fasted escapism?
What if your church fasted spectatorship?
Such heart fasts could trigger a spiritual revolution.
Via readings, reflection questions, daily fasts, ancient quotes, and more,
this is the dream of 40 Days of Decrease: A Different Kind of Hunger. A Different Kind of Fast.
In the same way self cannot satisfy self no matter how long it feasts,
self cannot starve self no matter how long it fasts.
Decrease is only holy when its destination is love.
We thin our lives to thicken our communion with God.
Enduring awe is rarely the fruit of a morning's celebration.
Enduring awe is the fruit of daily participation
with Jesus, our resurrected Love.
Dare to be awed by Easter!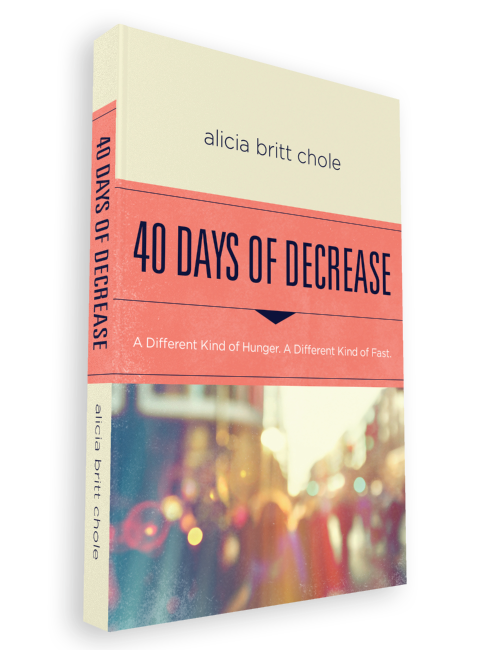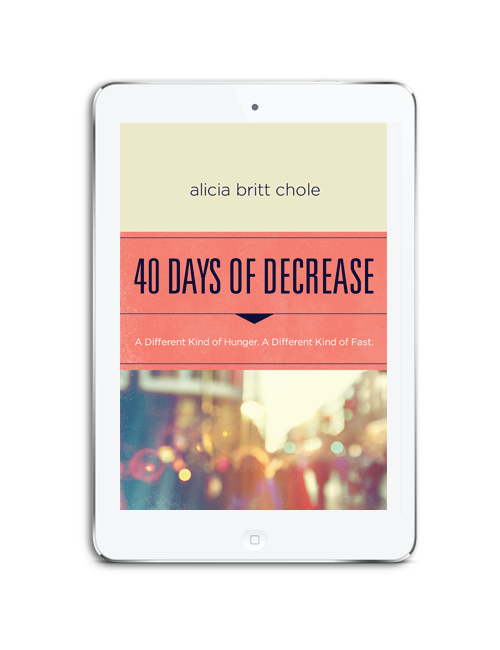 After experiencing Alicia lead a retreat with pastors, I wanted my entire congregation to be blessed in retreat with her. "The Mount." as we affectionately refer to our church, is more than a century old and predominately African American. We used 40 Days of Decrease as a congregation and then experienced the author herself. I am still praising God for the way the Lord used Alicia to open the wellsprings of increased devotion in our congregation. The history of Mount Ararat will record as a pivotal turning point in our devotional life when "40 days" was lifted for corporate consumption!
Dr. William H. Curtis, Senior Pastor, Mount Ararat Baptist Church
My dearest friend Alicia has done it again. And this time bringing our thoughts and attention to our interior life as we journey through LENT together. She writes with her whole heart laid bare, intuitive, prophetic, and profoundly inspiring, calling forth a revolution of soul health, stirring our passion to know Jesus more.
Darlene Zschech, composer, worship leader, speaker
Against a backdrop of societal belief that identifies God in terms of individual gain and increase, Chole alerts and encourages us to recognize God's will and ways in the midst of experiencing personal reduction. In so doing, she leads us into a fast that further conforms us into the image of Christ.
Bishop Dr. Claude R. Alexander, Jr., lead pastor of The Park Baptist Church, Charlotte, NC
Alicia has written a beautiful Lenten devotional, filled with gems that will draw your soul to God and His love. I highly recommend it!
Peter Scazzero, pastor and bestselling author of Emotionally Healthy Spirituality
40 Days of Decrease is a unique and original approach to the traditional preparation for the climax of Easter. The daily Reflection and Today's Fast components are gems, and the 40 distinct fasts she proposes offer a transformational praxis that redefines the meaning of hunger.
Dr. Kenneth Boa, author, speaker, scholar
Alicia's profound yet accessible revelation of decreasing ourselves so that Christ might increase in our lives will bless both seasoned participants in Lent and those who are just beginning to express this powerful spiritual discipline.
Kerri Weems, author of Rhythms of Grace: Discovering God's Tempo for Your Life
Alicia is a dynamic sage and spiritual guide for the twenty-first-century seeker of God.
Dr. Frank Anthony Thomas, professor of Homiletics at Christian Theological Seminary
In her beautifully transparent way, Alicia walks us through her journey toward utter dependence on Jesus and guides us in how to do the same. You will be blessed by her story and encouraged to look at fasting in a whole new way during this forty-day study.
Jennifer Rothschild, author of Invisible: How You Feel Is Not Who You Are
Alicia does something quite remarkable with this book. Her gentle and poetic prose invites us to forgo life's clutter and heavy burdens, leading us to joy and freedom of a deeper life with God. So practical. So helpful.
Dr. Nathan Foster, author of The Making of an Ordinary Saint
Alicia Britt Chole has an eloquence and thoughtfulness with words that are a rare gift. Her writings have deeply influenced me and I keep going back to them again and again. Her insights will help you linger over the sayings of Jesus and, more importantly, help you love Jesus more deeply.
Lance Witt, founder of Replenish Ministries, former executive pastor of Saddleback Church
The true purpose of Christian spiritual formation is not self-help or even spiritual growth, but loving God and serving God's world. Christ-followers are hungry for the kind of Lenten fast that sets us free to love and serve . . . and Alicia's creation is a powerful tool to lead us on that journey.
Dr. Dan Brunner, professor of Christian History and Formation, George Fox Evangelical Seminary
Alicia is brutally honest; she's true; she is much closer to the Jesus path, the downward journey to the cross, than the surplus of tepid and painless "American-Christianity-lite." Hers are stern, robust and healing words. This is the diet of true Christian Lent. I myself need this deep and disturbing book.
Dr. William D. Taylor, senior mentor, World Evangelical Association
Alicia refuses to be sentimental and forces the reader to find a gritty Gospel where life, pain, and redemption live in the same space. Alicia delves into what Howard Thurman calls "the altar on the island of the soul." This is the kind of writing that cuts and heals. Bravo!
Dr. Otis Moss, III, senior pastor, Trinity United Church of Christ, Chicago, IL
I am continually stunned by Alicia's vivid conciseness, which cuts quickly to the unseen core of carnality. She settles down the reader into the joy of purposeful brokenness. This devotional is more than a "must-read;" it gripped my heart as a "must-experience."
Dr. David J. Niquette, lead pastor of Christ Center Community Church, Fort Collins, CO
40 Days of Decrease offers an invitation to an unguarded awareness of self.  A revealing manuscript that will bend the focus of the soul from exhaustive self managing to reveal the beauty, the power and strength of the presence of Jesus magnified.
Noemi Chavez, pastor, speaker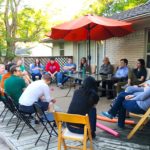 Our multi-gen home group ranging from 21-50 years in age chose to study 40 Days of Decrease for Lent and loved it. We grew deeper with each other and deeper in our walk with the Lord. The only complaint was that they wished they could spend a week on each of the 40 Days to best process all the truths within.
Gina Hamada, The Village Church Dallas Northway 
FOR CHURCHES & GROUPS

Alicia wrote this book with you in mind! 
40 Days of Decrease is ideal for life groups,
staff development, book clubs, and church-wide use.
Resources:
Click here to view a list of tools Alicia has prepared
for your group's journey through 40 Days of Decrease
including group discussion questions, tweets and memes, sermon outlines, and videos.
Click here for a one-page overview
of how the book can be implemented in a group context.
Bulk-order special:
Visit ChurchSource or call 800-727-3480.
Buy 10 for $8.99 each and save 40%
Buy 50 for $7.50 each and save 50%
Buy 500 for $6.75 each and save 55%
Buy 1000 for $6.30 each and save 58%